In mid-November we hosted a webinar reflecting on the search-related events of 2021 and looked ahead to what changes may come to search engines in 2022. We recapped major updates the search engines implemented and how those changes impacted results and the countless brands that rely on organic search. Check out a recording of the webinar.
During the live event, we asked our 750+ attendees about their experiences and perspectives on 2021 along with their plans for 2022. Respondents include people across a diverse range of marketing disciplines from SEO to demand generation, digital marketing, content development, IT and executive management, and across multiple industries including e-commerce, retail, software, manufacturing and finance. Here's what they had to say.
1. How do you feel the 2021 search engine updates impacted your business this year?

Per the timeline above, it was a busy year for the search engines. In the webinar we touched on the major search engine updates and asked our audience how those changes impacted their businesses. A minority – 13% – of respondents noted no impact to their business. A full 87% of respondents saw some impact, with 17% seeing significant impact.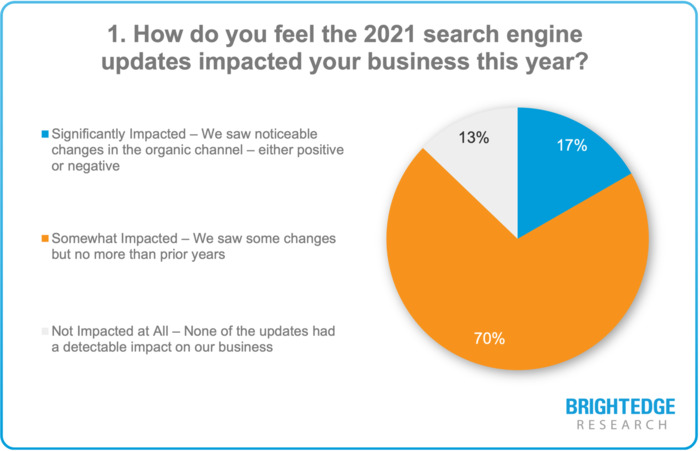 2. How are search engine changes impacting your plan for work in 2022? ​
Our audience is paying close attention to the changes in search and adjusting their plans for 2022 accordingly. Only 3% of respondents noted no impact on their 2022 work plans.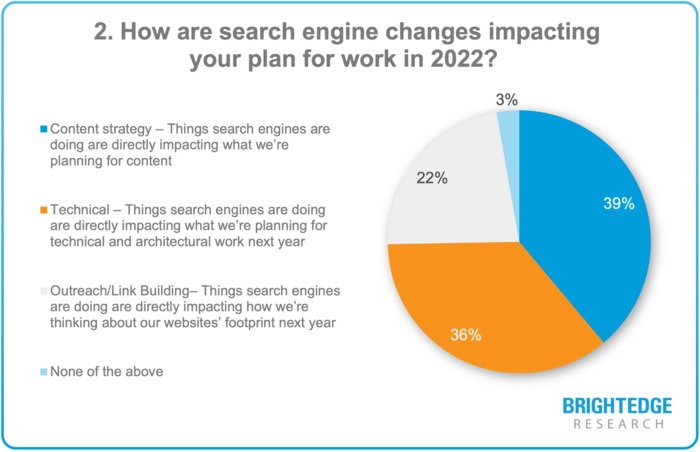 3. How has search volume been this year in your market?
A majority of respondents (59%) described growth in the search channel this year. Only 13% of the audience saw a decline in the channel for 2021.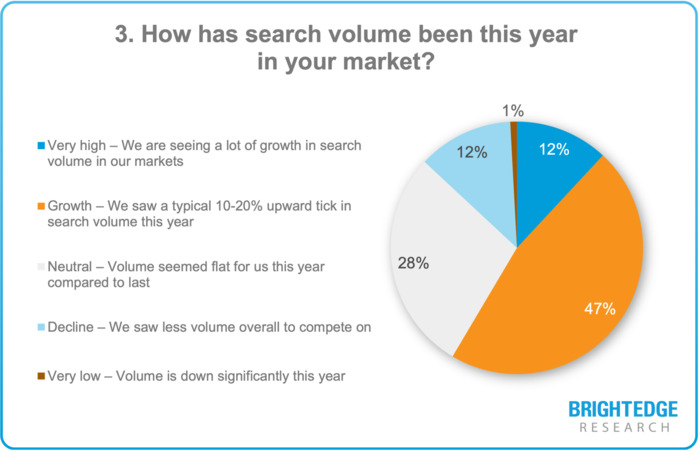 4. Have you noticed differences in the SERPs this year?
When we looked at the types of results presented in the SERPs for the top domains, we noted some changes compared to prior years including increased local intent reflected across all market segments, fewer quick answers and more people also ask results.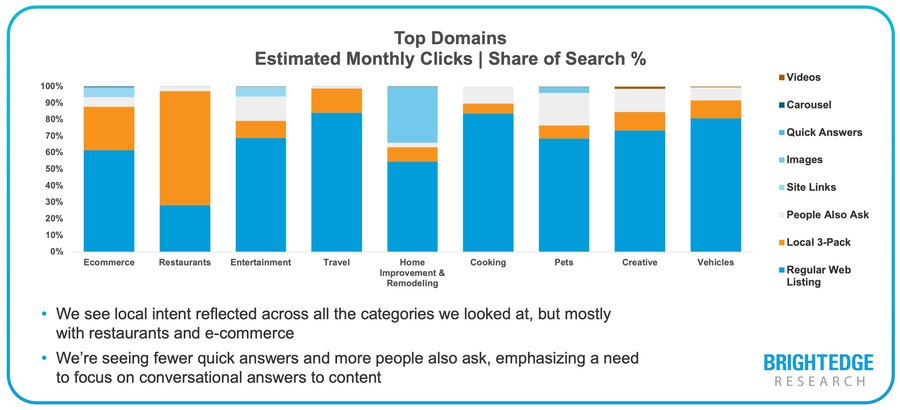 Our audience's experiences were mixed. A slight minority (48%) saw some differences in the SERPs with 11% seeing fewer universal results and features and 37% seeing more universal results and features. More than half (52%) did not note any differences in their search results.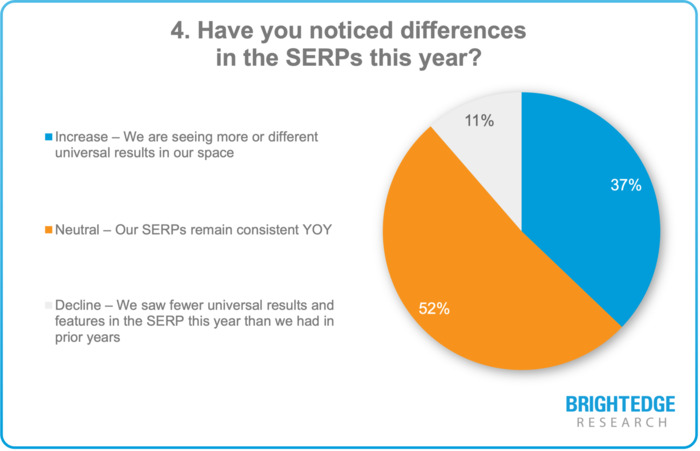 5. How has your audience's search behavior impacted your strategy this year?
More than two-thirds of respondents (68%) have had to address changes in their audience's search behavior at some level. Just under half of respondents (49%) were able to handle behavior changes through optimization, while nearly one in five (19%) made additional adjustments in their strategies to accommodate search behavior changes.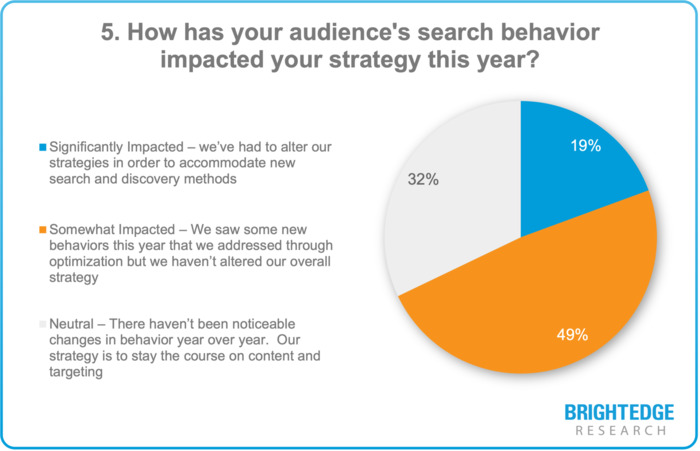 6. How do you see SEO prioritized for your company in 2022?
In 2022, SEO will take on greater importance in a vast majority of respondents' companies (89%). Notably, nearly half of respondents (46%) expect the organic channel to be an area of significant investment in the new year.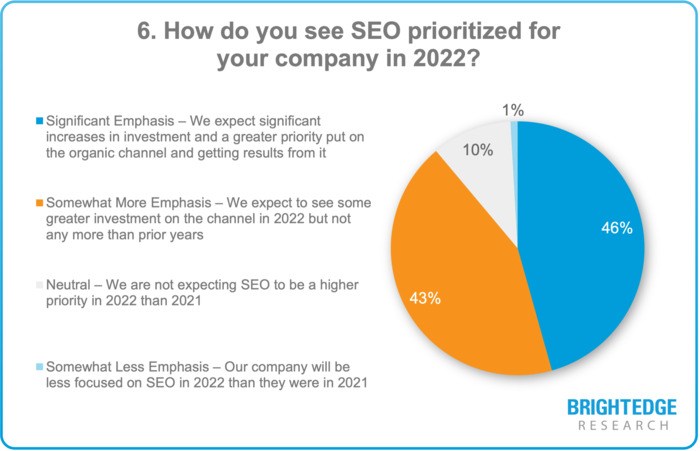 7. How Important is the advent of MUM to your strategy?
Earlier this year, Google introduced its Multitask Unified Model (MUM) technology designed to help users accomplish more with fewer searches. The company described MUM as 1,000 times more powerful than its current search model, BERT, and says it will begin rolling it out over the next few years.
We noted in the webinar that MUM reinforces the need for quality content and creates a virtual mandate that all content (video, images, PDFs, etc.) have SEO and query-intent factored into their development. Though it's early days for the new search model, we asked webinar participants to what extent MUM is factoring into their strategies.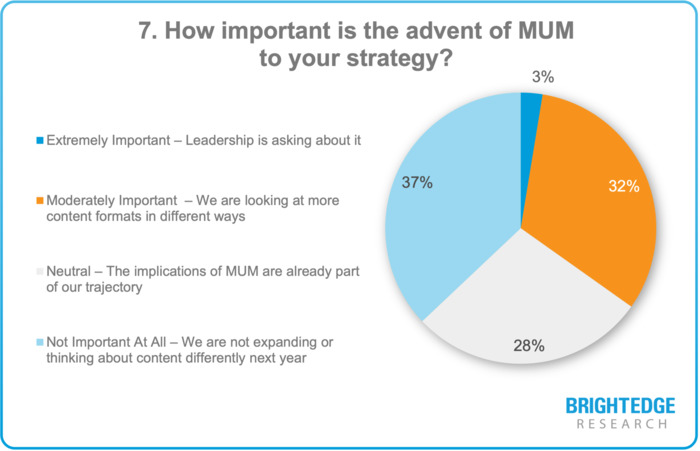 8. How important is voice and chat to your strategy?
Google is deeply focused on understanding search intent, decoding not just the content of a search, but the context. While details are still sparse, its announcement of LaMDA (Language Model for Dialogue Applications) in May 2021, crystallizes its interest in facilitating AI-driven conversation, an application highly dependent on understanding context. With this increased focus on voice and conversation from the organic search leader, we asked our audience to chime in on the role of voice and chat in their search strategies.
The results reflect the developing nature of the technology with 41% of respondents putting no emphasis on voice or conversational search, 52% of the audience noting some level of planning around it and only 7% of respondents placing significant emphasis on voice and conversational search.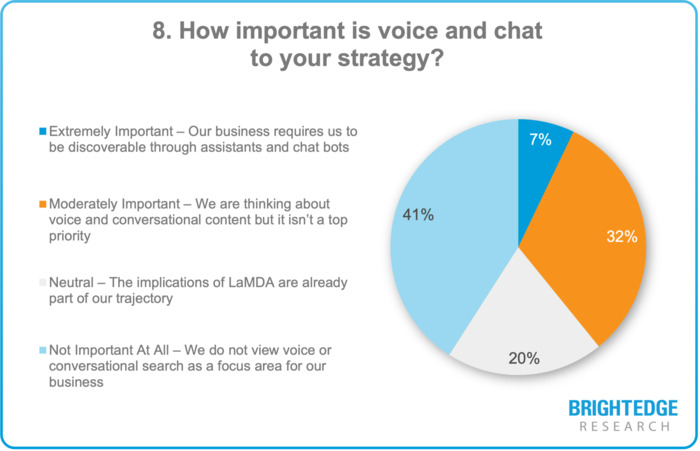 9. How important will Core Web Vitals be for you next year?
Core Web Vitals rolled out in 2021 and places greater emphasis on key user experience metrics including how quickly a page begins to "paint" in the browser, how soon a visitor can interact with the content and how stable the content is once it begins to load. Most importantly for companies that rely on the organic search channel, Core Web Vitals is a search ranking factor.
Many companies began work to improve their sites for Core Web Vitals this year. To better understand our audience's progress, we asked them how important Core Web Vitals will be for them in 2022. The vast majority (90%) have completed or are prioritizing their work to support Core Web Vitals. Roughly three-fourths of the audience (77%) still has work to do, while just 10% are not prioritizing it.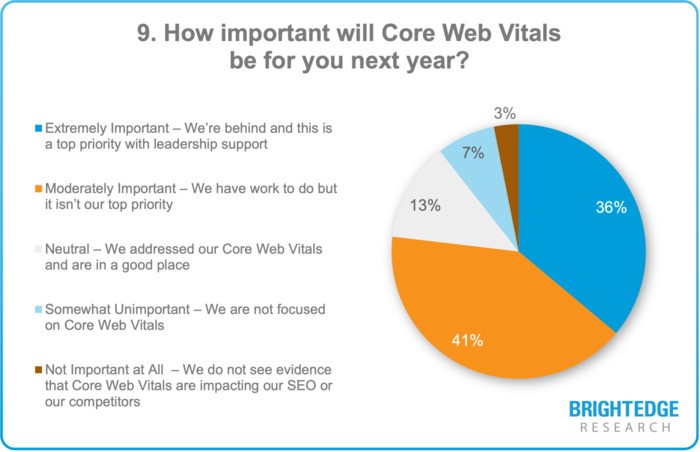 10. How much is title tag rewriting impacting your business?
In August of this year, Google announced a change in the way it handles title tags, confirming that it rewrites tags to better reflect what it believes to be the context of the content. As we noted in the webinar, Google's rewritten tags can impact your search ranking negatively. The best thing you can do is write title tags that focus on the core intent of the page, avoid keyword-heavy title tags and ensure the query intent you're trying to capture matches what your page provides.
Just under half of our poll respondents (45%) have observed rewritten tags, but did not note any negative consequences, but another 16% of respondents noted measurable business impact for the changes. We advise keeping an eye on title tag changes as these numbers may begin to shift as more tags are rewritten.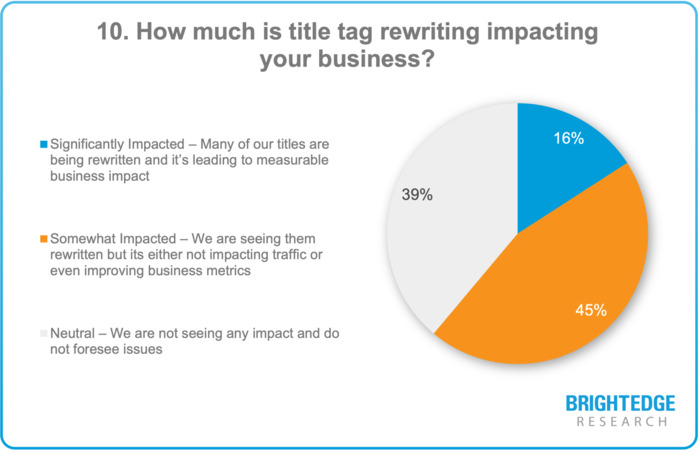 11. How much of a role does organic search data play in your company's business intelligence?
Organic search is a rich source of consumer tastes and intent. Now, as the quality of user data from other digital channels diminishes in the face of privacy concerns, we expect organic search data to take on greater importance as a source of business intelligence. We wanted to understand to what extent search data is a factor in our webinar attendees' business intelligence operations.
According to respondents, most (79%) said search data is or will be part of strategy planning. Notably, roughly one-third (33%) of those polled described search data as "a key input into how our company formulates its broader business strategies."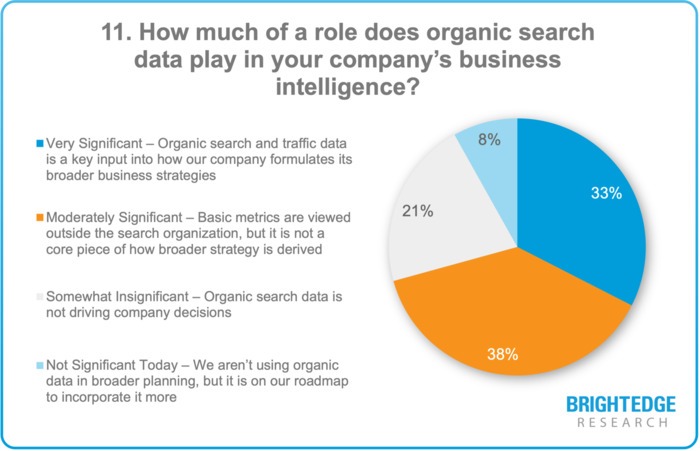 12. How important is automation and speed-to-value for SEO in your planning?
Finally, we predicted that SEO teams will need to find ways to do more and do it more quickly as conversational and contextual updates create more search paths, major updates released in 2021 like Page Experience and Mobile-First reach their full impact in 2022, and SEO becomes a bigger input into other channels.
We wanted to see if our audience's plans reflect the same level of urgency for SEO that we are forecasting. One-quarter of respondents do not share our outlook that automation and greater speed-to-value are key SEO priorities in 2022. However, among the 75% that share our outlook, 39% (29% of all respondents) are making automation and speed-to-value a top SEO priority in 2022.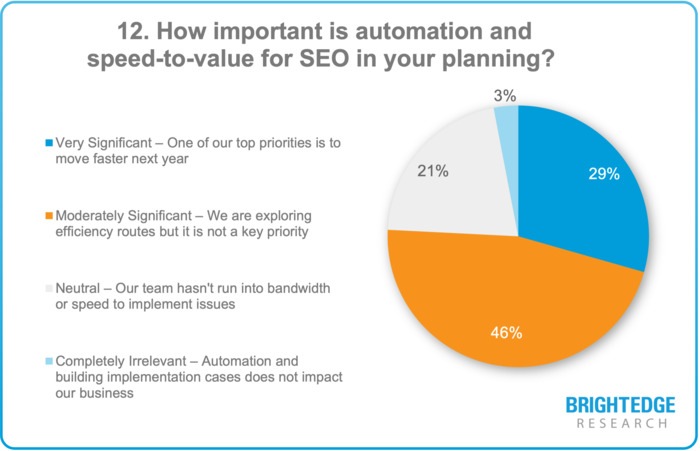 Looking Ahead to 2022:
We received a number of questions from participants during the webinar, and in the coming days, we'll address a number of them in a follow-up post. Keep an eye out for answers to these questions:
From BrightEdge's research, have you seen what, specifically, the three spam updates in 2021 were targeting?
Since the quality of content is king, is it still necessary to have long articles if one short article is more relevant?
Is there any preparation you suggest we should take for SEO markup on pages behind a newspaper's paywall?
What we can safely say about 2022 is that the year will continue to bring the types of changes to organic search that make us grateful to work in such a dynamic space. Much of the progress will come from the updates and new technologies introduced in 2021 as they continue to roll out and impact more content. At BrightEdge, we pay close attention to how the evolving search landscape generates new opportunities and potential impact for our customers. Bookmark our blog for ongoing guidance on new changes and updates to search throughout 2022.
To better understand how BrightEdge can help your business, schedule a demo today.